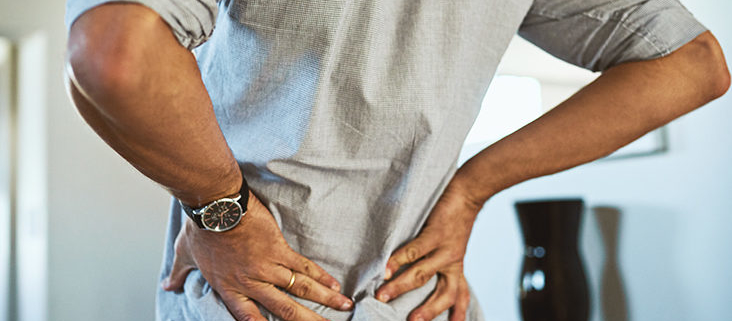 Understanding Spinal Disk Problems — the Basics
Article Featured on WebMD
What Are Spinal Disk Problems?
Anybody who has experienced a damaged spinal disk understands how painful it is. Every movement seems to make it worse. This pain is a warning signal that you should heed. If you take appropriate action, the discomfort usually stops, and the problem can be corrected.
Spinal disks are rubbery pads between the vertebrae, the specialized bones that make up the spinal column. Doctors call them intervertebral disks. Each disk is a flat, circular capsule about an inch in diameter and one-quarter inch thick. They have a tough, fibrous, outer membrane (the annulus fibrosus), and an elastic core (the nucleus pulposus).
The disks are firmly embedded between the vertebrae and are held in place by the ligaments connecting the spinal bones and the surrounding sheaths of muscle. There is really little, if any, room for disks to slip or move. The points on which the vertebrae turn and move are called facet joints, which stick out like arched wings on either side of the rear part of the vertebrae. These facet joints are separate from the discs and keep the vertebrae from bending or twisting excessively, which could damage the spinal cord and the vital network of nerves that runs through the center of the spinal canal formed by the stack of vertebra.
The disk is sometimes described as a shock absorber for the spine, which makes it sound more flexible or pliable than it really is. While the disks do separate the vertebrae and keep them from rubbing together, they are far from spring-like. In children, they are gel- or fluid-filled sacs, but they begin to solidify as part of the normal aging process. By early adulthood, the blood supply to the disk has stopped, the soft inner material has begun to harden, and the disk is less elastic. By middle age, the disks are tough and quite unyielding, with the consistency of a piece of hard rubber. These changes related to aging make the outer protective lining weaker and the disks more prone to injury.
Understanding Spinal Disk Problems — Herniated Disk
Under stress, a disk's inner material may swell, pushing through its tough outer membrane. The entire disk can become distorted or bulge in spots. With an injury, all or part of the core material may protrude through the outer casing at a weak spot, pressing against surrounding nerves. If further activity or injury causes the membrane to rupture or tear, the disk material may further extrude, causing pressure on the spinal cord or the nerves that radiate from it. This may result in extreme pain. In the beginning, there may be spasms in the back or neck which will greatly limit your movement. If nerves are affected, you may develop pain that moves into a leg or an arm.
The vast majority of disk injuries occur in the lumbar region of the lower back. Only 10% of these injuries affect the upper spine. Not all herniated disks press on nerves, however, and it is entirely possible to have deformed disks without any pain or discomfort.
Herniated disks are most common in men and women ages 30 to 50, although they also occur in active children and young adults. Older people, whose disks no longer have fluid cores, are much less likely to encounter the problem. People who do regular, moderate exercise are much less likely to suffer from disk problems than sedentary adults. People who exercise tend to stay flexible considerably longer. Maintaining a normal body weight is also important in preventing back problems.
What Causes a Herniated Disk?
Although a violent injury can damage a disk, problems with disks are often brought on by the normal aging process or by everyday activities, such as lifting heavy objects the wrong way, stretching too hard during a tennis volley, or slipping and falling on an icy sidewalk. Any such event can cause the fibrous outer covering of the disk to break or distort to the point that it presses on a spinal nerve, especially if disk material extrudes. Sometimes, a disk swells, tears, or degenerates without any apparent cause.
---
Orthopedic & Sports Medicine Center of Oregon is an award-winning, board-certified orthopedic group located in downtown Portland Oregon. We utilize both surgical and nonsurgical means to treat musculoskeletal trauma, spine diseases, sports injuries, degenerative diseases, infections, tumors and congenital disorders.
Our mission is to return our patients back to pain-free mobility and full strength as quickly and painlessly as possible using both surgical and non-surgical orthopedic procedures.
Our expert physicians provide leading-edge, comprehensive care in the diagnosis and treatment of orthopedic conditions, including total joint replacement and sports medicine. We apply the latest state-of-the-art techniques in order to return our patients to their active lifestyle.
If you're looking for compassionate, expert orthopedic surgeons in Portland Oregon, contact OSM today.
Phone:
503-224-8399
Address
1515 NW 18th Ave, 3rd Floor
Portland, OR 97209
Hours
Monday–Friday
8:00am – 4:30pm
https://orthosportsmed.com/wp-content/uploads/2020/06/Common-Disk-Injuries-and-How-to-Treat-them.jpg
549
732
orthosportsmed
https://orthosportsmed.com/wp-content/uploads/2015/01/osm-header-vs7.png
orthosportsmed
2020-06-24 21:16:21
2020-06-24 21:37:26
Understanding Spinal Disk Problems — the Basics