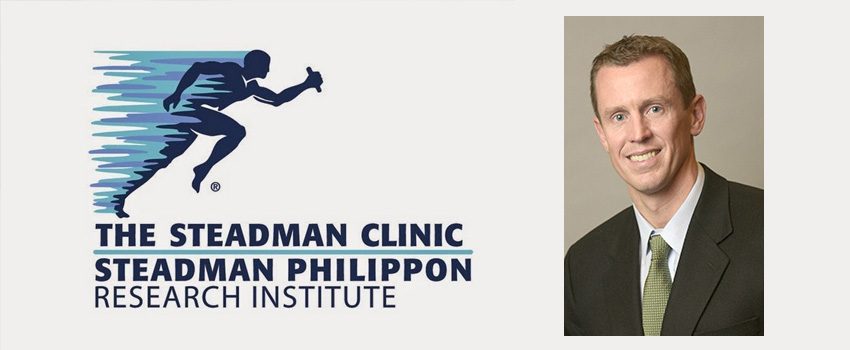 Dr. Petit gave lectures on complex shoulder replacement (arthroplasty) along with shoulder arthroscopy and biceps tenodesis to the international audience. Attendees included shoulder surgeons from around the world as well as physical therapists, athletic trainers, and primary care providers. Top shoulder surgeons from around the world making presentations during Summit at Sonnenalp Vail April 6th and 7th.
VAIL, Colo., April 6, 2018 – The latest and most up-to- date methods and technologies in shoulder surgery will be the primary topics of discussion at the Vail International Shoulder Summit on April 6th and 7th at the Sonnenalp Hotel in Vail. The Summit is sponsored by Steadman Philippon Research Institute (SPRI), with The Steadman Clinic's own Peter Millett, MD, MSc serving as the primary host of the event.
The two-day session begins today, Friday, April 6th with SPRI clinical fellowship and International scholar alumni attending. The Summit continues Saturday the 7 th and is open to all orthopaedic surgeons, athletic trainers, physical therapists and professionals in orthopaedics and sports medicine.
Dr. Millett – who is a shoulder, knee and elbow specialist at The Steadman Clinic and has practiced sports medicine there since 2005 – looks forward to the variety of topics that will be discussed at the weekend's Summit.
"The meeting is truly an international one with surgeons coming from all over the world to speak and present on their areas of expertise," said Millett. "One of the benefits of the meeting is that, by design, there is ample time for discussion and one-on- one interaction between the presenters and the audience. It's more like a think tank, incubator type of meeting than a convention, and that's by intent."
While Millett and SPRI have played host to numerous national and international conferences over the years that have focused on shoulder surgery and injuries related to the shoulder, this marks just the second time that they have included a day solely for returning alumni.
"Since so many of us know each other so well," continued Millett, "it creates more openness and frank dialogue. This format allows us to be less reserved, more candid, and therefore more likely to get real advancements. It leads to some great discussion and helps us all learn more about the latest innovations in shoulder care.
"I think the venue in Vail really facilitates a lot of interaction, which no doubt creates a good cross-pollination of ideas," added Millett. "Hopefully it not only serves as a forum where there is a lot of sharing of knowledge, but also spurs innovation."
The Shoulder Summit begins Friday with presentations on the AC joint, bicep tendon, shoulder instability and rotator cuff tears. Saturday's agenda includes segments on shoulder joint preservation and shoulder arthroplasty (total shoulder replacement surgery).
In addition to Millett, Burak Altintas, MD and Robert Boykin, MD will be serving as course directors for this year's Shoulder Summit. Altintas, a German orthopaedic surgeon—originally from Turkey—is currently serving as an International scholar at SPRI, working closely with Millett and specializing in shoulder injuries and surgery. Boykin, who trained at Harvard, is a former sports medicine fellow at The Steadman Clinic and now practices as an orthopaedic surgeon in Asheville, N.C.
Other key presenters include The Steadman Clinic and SPRI's own Matthew Provencher, MD and Johnny Huard, PhD. Provencher—a shoulder, knee and sports surgeon at The Steadman Clinic—will concentrate his talks on shoulder instability. Huard—Chief Scientific Officer and Director of the Center for Regenerative Sports Medicine at SPRI and recently named a recipient of the prestigious 2018 ORS (Orthopaedic Research Society) Kappa Delta Award—will talk about the use of biologics in the shoulder during Saturday morning's discussion on shoulder preservation.
https://orthosportsmed.com/wp-content/uploads/2018/05/Dr-Petit-Header.jpg
350
850
orthosportsmed
https://orthosportsmed.com/wp-content/uploads/2015/01/osm-header-vs7.png
orthosportsmed
2018-05-24 00:14:41
2018-05-24 00:14:41
Dr. Petit Presents at the Vail International Shoulder Summit