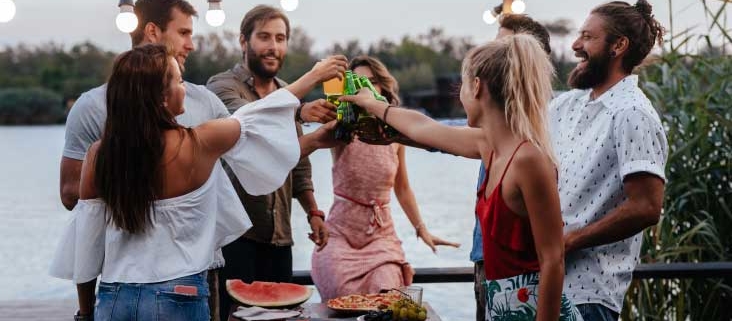 Fourth of July Safety Tips
Fourth of July fireworks shows, cookouts and beach vacations will look very different this year. As Covid-19 cases continue to surge across the country, the issue of how to celebrate and socialize safely is top of mind for many Americans.

This weekend is "set up a perfect storm" for virus transmission, Dr. Joshua Barocas, infectious disease physician and assistant professor at Boston University School of Medicine, said in an Infectious Disease Society of America briefing Wednesday. The combination of travel, reopening and people relaxing guidelines contribute to the increased risk.
Experts say that the increase in coronavirus cases in late June can be traced back to Memorial Day weekend, when lockdowns ended in many states and people celebrated the holiday. So what can you do to avoid a repeat situation after the upcoming holiday weekend?
Here's how to minimize your risk of Covid-19 this Fourth of July:
Stay home with only those you live with
Though people may understandably find it challenging, the best way to protect yourself and others is to stay home. We need to balance safety with "our individual and societal need for interactions," Barocas said.
It's important to remember that "the virus isn't gone," Barocas said. In fact, Covid-19 is surging in many states. And the fewer people you interact with, the less of a risk you have of contracting Covid-19.
"The most surefire way to protect ourselves and others from Covid-19 is to continue to shelter in place and stay at home, even if local and state jurisdictions don't have these orders in place," Barocas said. If the prospect of being around people or crowds makes you nervous, don't do it.
Wear a mask and don't forget the basics
If you are around other people, remember the key Covid-19 prevention measures: practice good hand hygiene, maintain social distance and wear a mask in public places. (Wearing a mask is completely safe to do, and it will not cause CO2 poisoning or lower your oxygen intake.)
"These [rules] all still apply," Barocas said. "They protect you and they can protect people around you.
Stay outside
If you're socializing with other people outside of your household, it's best to do it outside, where there's more airflow and room for respiratory droplets to disperse, Barocas said. While outside, you should still maintain at least six feet of physical distance from others, and of course, wear a mask.
If you can't hang outside, then the CDC suggests opening windows to increase ventilation.
Have a safe and happy Fourth of July from
---
The Orthopedic & Sports Medicine Center of Oregon is an award-winning, board-certified orthopedic group located in downtown Portland Oregon. We utilize both surgical and nonsurgical means to treat musculoskeletal trauma, spine diseases, sports injuries, degenerative diseases, infections, tumors and congenital disorders.
Our mission is to return our patients back to pain-free mobility and full strength as quickly and painlessly as possible using both surgical and non-surgical orthopedic procedures.
Our expert physicians provide leading-edge, comprehensive care in the diagnosis and treatment of orthopedic conditions, including total joint replacement and sports medicine. We apply the latest state-of-the-art techniques in order to return our patients to their active lifestyle.
If you're looking for compassionate, expert orthopedic surgeons in Portland Oregon, contact OSM today.
Phone:
503-224-8399
Address
1515 NW 18th Ave, 3rd Floor
Portland, OR 97209
Hours
Monday–Friday
8:00am – 4:30pm
https://orthosportsmed.com/wp-content/uploads/2020/06/4th-of-july-safety-bbq-blog-image.jpg
539
732
orthosportsmed
https://orthosportsmed.com/wp-content/uploads/2015/01/osm-header-vs7.png
orthosportsmed
2020-07-01 07:13:50
2020-07-11 15:07:15
Fourth of July Safety Tips