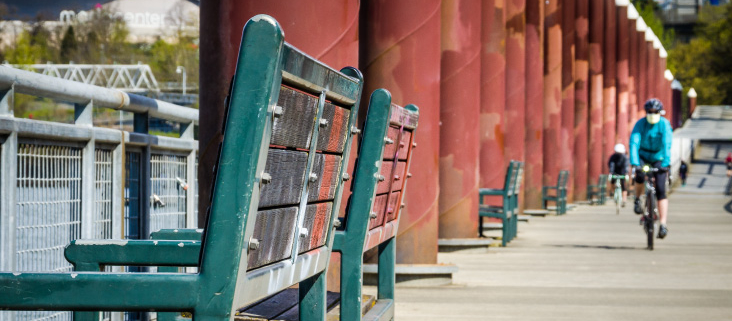 COVID-19 and the Portland Community
Travel Portland, along with the Oregon Health Authority, City of Portland and Multnomah County, are closely monitoring the impact of COVID-19 (coronavirus disease 2019) in our community.
Multnomah County, where Portland is located, entered Phase 1 reopening on June 19, 2020. The other Portland metro counties, Clackamas and Washington, were already in Phase 1. Going forward, the three metro counties will be considered as a unit. On July 7, Multnomah County announced that it will stay in Phase 1 "indefinitely."
As of July 1, people are required to wear face coverings when in grocery stores, pharmacies and other indoor public spaces in all Oregon counties.

On May 14, 2020, Oregon Governor Kate Brown issued Executive Order 20-25: Safe and Strong Oregon. While this order outlines the framework for phased reopening, the following statewide orders are still in effect:
Individuals should continue to stay at or near their home or place of residence, whenever possible.
When individuals leave their home or place of residence, they should maintain physical distancing of at least six (6) feet from any person who is not a member of their household, when possible, and should adhere to any applicable OHA guidance, including but not limited to guidance on physical distancing and face coverings.
Restaurants, bars and other establishments offering food and beverages for sale are restricted to carry-out and delivery only, with no on-site consumption allowed.
All cultural, civic, and faith-based gatherings of more than 25 people are prohibited. Such gatherings of 25 or fewer people are allowed only if it is possible to maintain appropriate physical distancing.
Social and recreational gatherings outside of a home or place of residence continue to be prohibited, regardless of size, unless it is possible to maintain appropriate physical distancing, in which case gatherings of up to ten (10) people are permitted.
Individuals may go outside for recreational activities (walking, hiking, etc.), but must limit those activities to non-contact, and are prohibited from engaging in outdoor activities where it is not possible to maintain appropriate physical distancing.
Individuals should continue to minimize non-essential travel, going only the minimum distance necessary for food, shelter, consumer needs, education, health care or emergency services, essential business and government services, and for the care of family members or other vulnerable persons.
---
The Orthopedic & Sports Medicine Center of Oregon is an award-winning, board-certified orthopedic group located in downtown Portland Oregon. We utilize both surgical and nonsurgical means to treat musculoskeletal trauma, spine diseases, sports injuries, degenerative diseases, infections, tumors and congenital disorders.
Our mission is to return our patients back to pain-free mobility and full strength as quickly and painlessly as possible using both surgical and non-surgical orthopedic procedures.
Our expert physicians provide leading-edge, comprehensive care in the diagnosis and treatment of orthopedic conditions, including total joint replacement and sports medicine. We apply the latest state-of-the-art techniques in order to return our patients to their active lifestyle.
If you're looking for compassionate, expert orthopedic surgeons in Portland Oregon, contact OSM today.
Phone:
503-224-8399
Address
1515 NW 18th Ave, 3rd Floor
Portland, OR 97209
https://orthosportsmed.com/wp-content/uploads/2020/07/travel-portland-covid-19.jpg
539
732
orthosportsmed
https://orthosportsmed.com/wp-content/uploads/2015/01/osm-header-vs7.png
orthosportsmed
2020-07-11 14:35:03
2020-07-11 14:35:03
COVID-19 and the Portland Community